Art Whino's signature, month long art summit returns for the sixth edition of its immersive experience 
Presented by Art Whino, the annual G40 Art Summit group art show brings together world-renowned artists for a month long exhibition, with works in Low Brow and street culture expression, that reflect a particular theme.

The 2015 G40 event will once again be a building 'takeover,' showcased at a 20,000 square foot site in the heart of H St Corridor at 700 H Street, NE. The event is also the first for the 'Whino on H' satellite location of Art Whino, bringing a whole new experience focusing on entertainment.

With an 'Installation' exhibition theme, participating artists will create their own artistic environments with large scale art pieces which they will superimpose their canvases and works on paper.

The 2015 G40 Art Summit will also include a large group show including works from over 70 different artists from around the world, providing audiences and viewers a broad cross section of the wide variety of work that falls into the Low Brow genre.

To compliment the more than 500 pieces of art exhibited inside the space, the exterior of the building will be painted by Polish artist Pener (Bartek Pener Świątecki), with a dramatic mural wrap.

Pener will paint the H Street and 7th Street sides of the building, completely transforming the exterior on a very busy corner into a large-scale work of art for the community and aficionados of street art alike. Continuing with the G40 tradition of month-long programming in conjunction with the exhibition, there will be a range of events and activities for patrons to enjoy and return to see the exciting space multiple times.
 
Follow this link to view the exhibition works G402015

Saturday, Sept 12-26th 2015

Location:
WHINO on H St
700 H St NE
DJ Kev Brown (10-Midnight)
RSVP Here https://goo.gl/BpVjDS
DJ Adrian Loving (3pm-5pm)
DJ Oso Fresh (5pm-8pm)
Congo Sanchez and Flex Mathews (8pm-10pm)
Kev Brown (10pm-Midnight)
Flex Matthews, Ardamus and DJ Osofresh (11-1am)
Rhythm & Culture Label featuring DJ Spkr Club (1-3am)
RSVP Here https://goo.gl/37NW80
About the G40 Art Summit:
The first G40 art summit in 2010 compounded artistically explosive cultures from all over the world and brought them to the DC metroarea. By bringing all of these cultures from throughout the world to one place it allowed the visitor to be fully immersed in over 1000 works by 500 artists organized by floors corresponding to their cultural hubs.  In 2011 G40 explored the media of art which are on the forefront of creative transitions and growing in large scale with hundreds of thousands of fans throughout the world. Some of these genres include Customized collectibles, Skateboard Art, Stencil, Wheat Paste and 3D Installations.  In 2012 the theme was the "Art of the Mural".  Traveling to Richmond, VA. and inviting 12 of the top mural artists from around the globe to unleash their creativity to 20 large scale walls throughout Richmond as well as having six exhibits in pop up galleries along the main street of the arts district. With two dimensional work and installations by each mural artist, these shows offer the opportunity to experience a more personal scale and a closer look at the execution and detailing of the mural artists work.  In 2013 it transformed a 138 year old abandoned church to a full scale piece of art with a full building mural by Hense and a massive interior mural by Australian artist Meggs.  In keeping with the spirit of the transformation of the building the theme for the the 2014 group art show was Transformation as artists were challenged to use found objects to repurpose them to pieces of art.
These are my projects Exhibited in this years G40
"Gorgon General" 24x36 Vector Illustration on Giclee Canvas
"Polar" 24x36 Vector Illustration on Giclee Canvas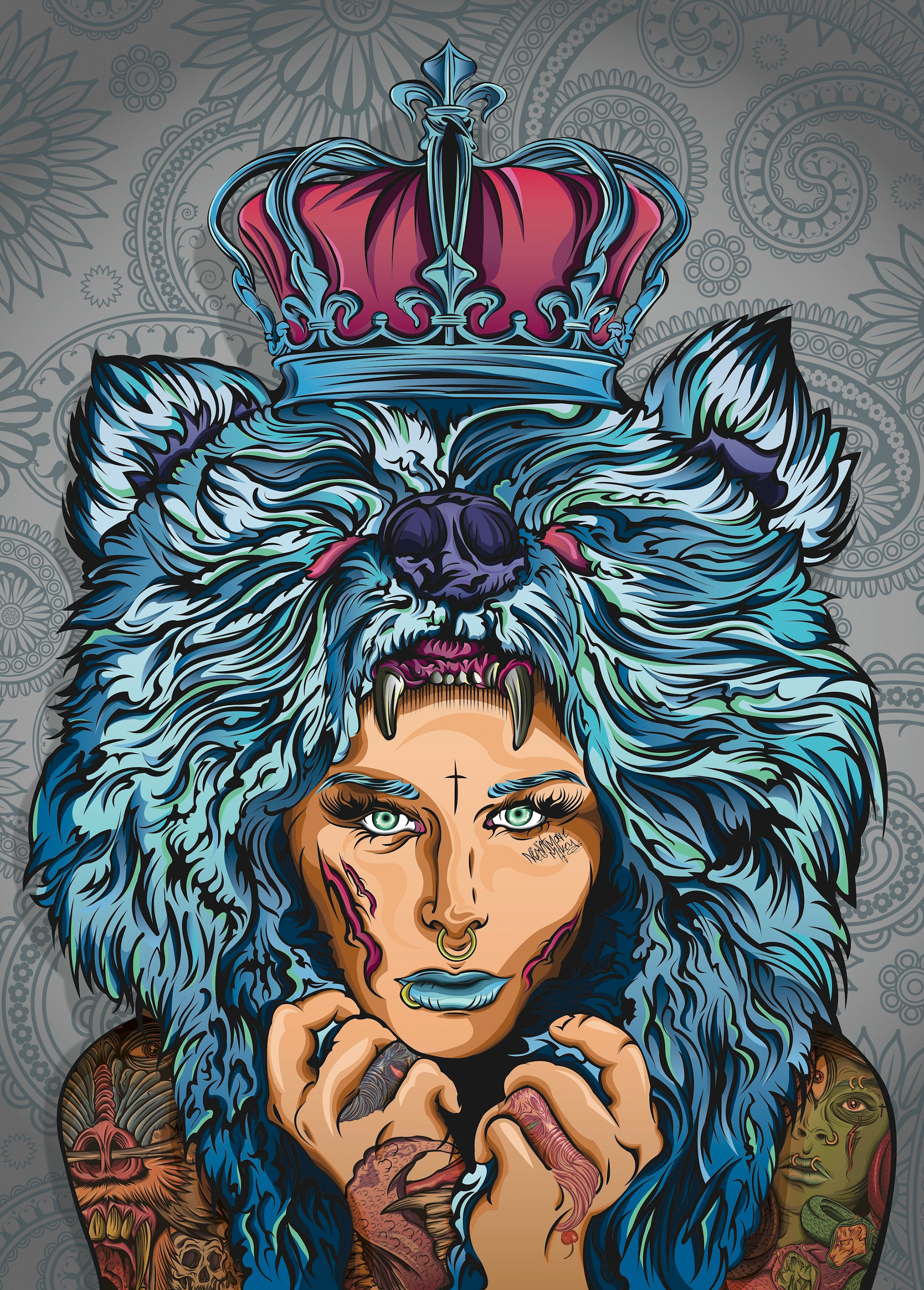 Art All Night: Nuit Blanche DC was founded by Ariana Austin in 2011. The festival is an all-night exploration and celebration of contemporary art, encompassing five of DC's most vibrant neighborhoods: Dupont Circle, Shaw, North Capitol, H Street NE, and Congress Heights.  Watch as DC's creative community re-imagines public and private space and invites us all to see our city anew. Indoor and outdoor venues will showcase work by artists in a diverse range of media – with vibrant visual arts, street performances, live music, and DJs contributing to an unprecedented mash-up of cultural experiences in the nation's capital.  With this festival, Washington DC joins a global network of Nuit Blanche all-night arts events, that started in Paris in 2002 and has captivated audiences from Montreal to Melbourne.